Back by popular demand!
I still haven't gotten around to redesigning these pages, but as a lot of people asked for the site to return, and as the site has had a steady stream of hits even in its 'sleeping period', I am relaunching the 'original' Airliners at Fornebu.
As everyone know, Fornebu closed for good in 1998 after 59 years as Oslo's main airport. Located 10-15 minutes from downtown by car, it was a popular airport among its users, but not so popular amomg the neighbours who had to live with the noise 16-18 hours per day. This convenient location was one of the factors that led to its demise, a political game was the other. I shall not dwell on either here, only present the raw and uncensored pictures from an airport where I spent 18 years of my life, and had a lifetime of good experiences. Plus a mountain of frustrations, but those are now forgotten.
More or less all of these pictures need to be rescanned, but I hope you will enjoy them more for their historical value than for their photographic quality.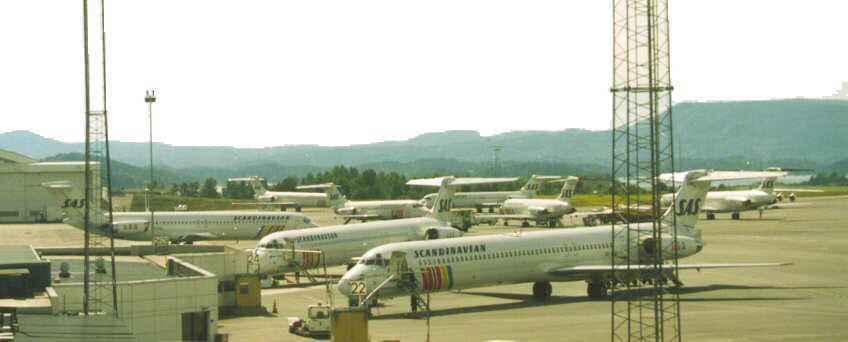 This is what it looked like from my office window, the last few years. It was next to the staff restaurant, by the way.
---
©1997- Andreas Mowinckel. All rights reserved.
No republishing without permission.
Updated May 2006