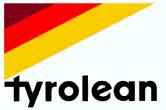 ---
Tyrolean operated 12 weekly flights to Vienna using Canadair Regional Jets. The midday flight operated via Gothenburg both ways.
---
Canadair RJ OE-LCH
---
This aircraft, C-GBBT of DAC Air suddenly turned up one day...
---
Fokker 70 OE-LFG on a rare visit.
---
This site was updated 8. December 1997 by Andreas Mowinckel - Please mail me if you have any comments.
All pictures ©1997- Andreas Mowinckel. No republishing without permission.